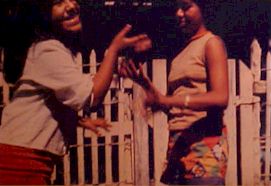 Beginning in February of 1974 and continuing well into the fall of that year, I conducted field research with Chicano children in Austin, Texas, as part of a project supervised by my research adviser, Professor Richard Bauman. My goal was to document traditional verbal forms of expression among Austin's Chicano children, and my procedure was to walk or drive over to East Austin, an old Chicano neighborhood, and casually approach groups of children playing together by the curbside, in public parks, or on school playgrounds. The materials I collected are rich in riddles, jokes, rhymes, and stories, both traditional and improvised, in Spanish and in English. Much of the speech is a fusion of Spanish and English, the native linguistic code for many of these children. These sessions display their speech patterns and verbal repertoires and offer insights into dynamics of peer-group interaction. They manifest the talents, interests, and concerns of the children, and illustrate how traditional forms of verbal expression are used to explore the world of the imagination, to inspect physical environments, to jostle for social position and status, and to make and remake community.

Currently, with Bauman and Beverly Stoeltje, another TCFP participant, we are preparing a retrospective on this important venture into the creative lives of Austin's young folk.

In another vein, I published in 2018 an analysis of children's fantasy play, based on my own son Michael's representation of our field experience in Mexico at age five; see "Collage of Colors: Processing Place through Fantasy Play." Children's Folklore Review 39 (2018): 62-91.
&nbsp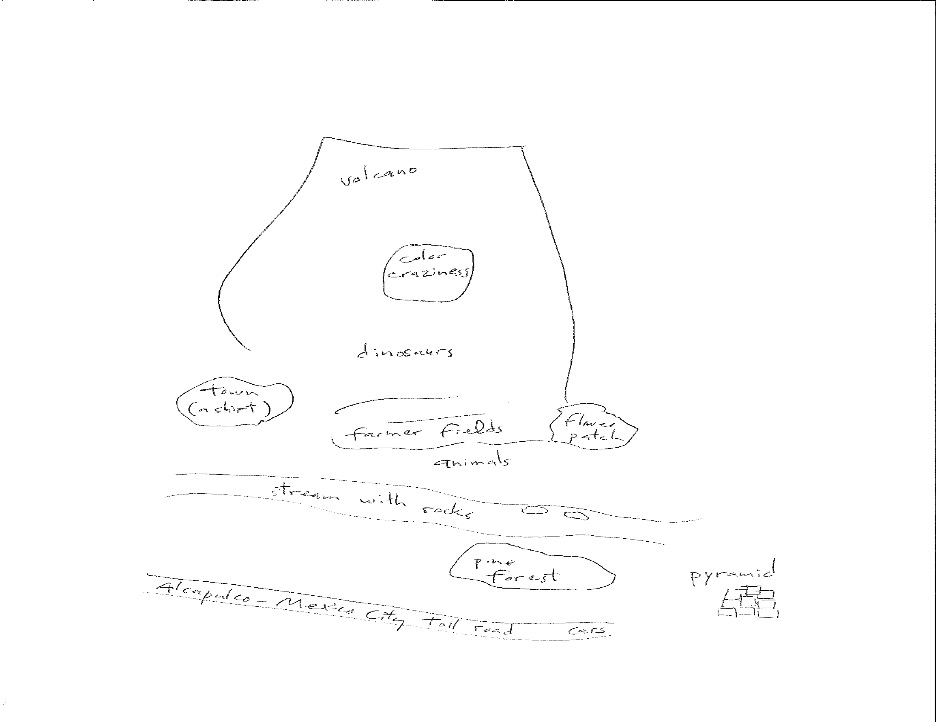 Sketch of Michael's model of the Mexican field site

Publications
From these materials came my dissertation, The Speech Play and Verbal Art of Chicano Children: An Ethnographic and Sociolinguistic Study (University of Texas, 1975), and one monograph, Children's Riddling (IU Press, 1979), as well as several articles, anthology chapters, and encyclopedia entries, as listed below:
2018

"Collage of Colors: Processing Place through Fantasy Play." in Children's Folklore Review, 39: 62-91. https://scholarworks.iu.edu/journals/index.php/cfr/article/view/25376/31238

&nbsp

"Transitionality: The Border and Barrier and Bridge." in Border Folk Balladeers: Critical Studies on Américo Paredes, edited by Roberto Cantú. Cambridge Press, pages 86-101.

1998

"Transmission of Children's Folklore." in Children's Folklore: A Sourcebook. , Reprinted by Utah State University Press, pp. 49-62.

&nbsp

"Play." The New Book of Knowledge. , Grolier, pp. 333-4.

1995

"The Transmission of Children's Folklore," in Children's Folklore: A Source Book, Brian Sutton-Smith et. al. (ed.), pp. 49-62. New York: Garland.

1994

"Riddle." The Encyclopedia of Language and Linguistics. Oxford: Pergamon Press. Vol. 7: 3578-3580.

1988

"Speech Play," in The International Encyclopedia of Communications, ed. Erik Barnouw, New York: Oxford University Press.

1983

"Children's Folklore," in Handbook of American Folklore, Richard Dorson (ed.). New York: McGraw-Hill.

1982

"Sociolinguistic Contours in the Verbal Art of Chicano Children," in Lucia Elias-Olivares and Jon Amaestae (ed.), Spanish in the United States: Sociolinguistic Aspects, pp. 333-353. Cambridge: Cambridge University Press. Also appears in Aztlán: Chicano Journal of the Social Sciences and the Arts 13: 165‑193.

"Speech Play," Children's Literature Association Quarterly, 26-28.

1980

"Animal Categories in Chicano Children's Spooky Stories," in Nickolai Burlakoff and Carl Lindahl (ed.), Folklore on Two Continents: Essays in Honor of Linda Degh. Bloomington: Trickster Press.

"Hey Diddle Diddle, What's in a Riddle?" Center for Southern Folklore Magazine, 3: 13.

"Riddling and Enculturation: A Glance at the Cerebral Child" (re-issue), in Richard Bauman and Joel Sherzer (ed.). Language and Speech in American Society: A Compilation of Research Papers in Sociolinguistics. Austin, Southwest Educational Development Laboratory.

1974

"Interrogative Routines in Mexican American Children's Folklore," Working Papers in Sociolinguistics, no. 20.
SAMPLES OF CHILDREN'S SPEECH PLAY
&nbsp
1.

-Why do birds fly south for the summer?

-Because it's too far to walk.

-Porque it's too far pa' andar.

2.

Este chamaquito, este chamaquito estaba chewing gum, estaba comiendo gum y la estaba chewing y después se le cayó y ya la iba a levantar y dijo la mamita: "No, no lo agarre porque el diablo ya la lambió," y después dijo, "Ten, anda a buscar otra," so he chewing it and this, el vio una big old rock que la mamita la quería hacer jump la rock y se cayó y dijo, "0ntá mi nene?" y dijo, "No, porque el diablo ya te lambió."

3.

Popeye nació en Torreón

Debajo de una sillón,

Mató a su tía

Con una tortilla

Popeye nació en Torreón.

4.

-Can you say our names in Spanish?

-What are your names?

-Paula.

-That's Spanish already.

-Paula (with emphatic Spanish pronunciation)

-Say Rudi.

-Rudi, ah, Rodolfo.

-Adam.

-Adán.

-Say Rosemary in Spanish.

-Rosa María.

-Say Mary Jane.

-María Juana.
Last Modified Jan 30, 2023